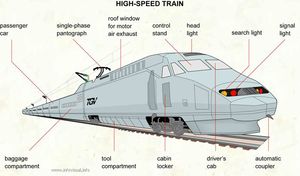 Sous format PDF: DB_to_start_London_services_in_2013
Deutsche Bahn, the famous rail transport company will launch a train under the Channel Tunnel in 2013 from London to Germany or the Netherlands!
La DB, célébre entreprise de transport ferroviaire allemande, lancera un train dans le tunnel sous la manche en 2013 pour rejoudre l'Allemagne et les Pays Bas depuis Londres!
DB to start London services in 2013
German rail operator Deutsche Bahn has reportedly confirmed that it will begin services to London from 2013.
According to reports by ABTN, the German state railway network will run three services a day between London St Pancras and Brussels, beginning in December 2013.
The high-speed trains will then divide, with one half going north to Amsterdam via Rotterdam and another to Frankfurt via Cologne, reports ABTN.
At the moment, passengers to Amsterdam must use Eurostar to Brussels before changing for the Thalys high-speed train, and passengers to Frankfurt must change for Deutsche Bahn's ICE service.
The report suggests that a journey from London to Frankfurt by train will take just over five hours, and London to Amsterdam will be just under four hours.
Deutsche Bahn first tested its trains in the Eurotunnel last year, hinting that before long it would look to break the long-held monopoly of cross-channel rail services prized by Eurostar.
The Siemens-built ICE3 train was the first passenger train not run by Eurostar to enter the tunnel, although it passed through at a sedate 30 kilometers per hour, a world away from the blistering 300km/h-plus speeds the ICE3 and Eurostar trains are capable of.
Now, it looks like German trains will become a regular fixture on the iconic underseas route - although it seems they won't be in place in time for the London 2012 Olympic Games, Deutsche Bahn's initial target.
The Independent
Lien pour mieux comprendre le fret ferroviaire au RU:
How_the_rail_freight_industry_works
Ouverture_du_Fret_ferroviaire___la_concurrence
Vocabulary box English/French:
A rail operator: exploitant ferroviaire
From 2013 : à partir de 2013
According to : d'après/selon
the state rail network : le réseau ferroviaire national
to run (ici): opérer, faire fonctionner
one half: une moitié
going north: qui va vers le Nord
via: par
a journey : un trajet
over 5 hours: un peu plus de 5 heures
under four hours : moins de 4 heures
hinting that: laissant entendre que
to break the monopoly : briser le monopole
long-held : longtemps détenu
cross-channel rail services: services de train pour traversée de la Manche
not run by Eurostar: pas exploité par Eurostar
although: bien que
it passed through: il soit passé
sedate: calme, modéré
blistering 300km/h: foudroyant 300 kilometre/heure
it looks like: on dirait que
a regular fixture: une institution
underseas route: itinéraires sous-marins
won't be in place in time: ne seront pas prêt à l'heure
target: cible
---