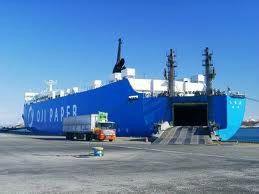 A Roll-on Roll-off or a ferry boat.
Those ships are used mostly in short journeys to cross the Channel or the Mediterranean Sea for instance.
They enable lorries to link two shores without wasting too much time in handling and storage.
Indeed, the lorries roll onto the boat where they are parked, the Ro-Ro crosses the sea; and then lorries roll off to reach their final destination.
There is no breakbulk (the goods stay in the lorry, there is no loading or unloading at the port).
VOCABULARY
Roll-on Roll-off: un roulier
journeys: des trajets
wasting too much time: perdre trop de temps
breakbulk: rupture de charge